We Build Telescopic Fillers for the Canning, Plastic, and Glass Filling Industries.
We have been constructing fillers for 20 years at our Lodi, California operation. From the smallest 30" ingredient dispensers to the high speed 60" bowls, these fillers are designed with an emphasis on easy, inexpensive maintenance and reliability.
The process of filling containers volumetrically with a telescopic filler is not new to the industry. FMC, Zilli-Bellini, and Zacmi have been building successful high speed fillers for years. We simply build these fillers with parts that processors will commonly have on their shelves or can access thru their bearing supply houses. Hub City gear boxes, Timken bearings, Rexnord table top chain, Torq Guard clutches, just to name a few. Fillers are all stainless steel construction with a choice of either 304 or 316 grades of stainless.
Product is conveyed to the filler and delivered to the top bowl. As the filler turns, product is moved over the telescopic pockets located around the periphery of the top bowl. Product waterfalls into the pockets filling them. Once full, the top excess is taken off and returned to be filled on the next revolution. (First product into the filler is first product filled into the container.) The loaded pockets rotate into the drop zone, where the lower holding plate has a gate so that the product can drop out into the container. Adjustments to fill volume are made by simply increasing or decreasing the length between the upper and lower telescopic tubes. Our fillers come with a simple manual adjustment located in the center of the bowl. You can also add electric or air driven fill adjustment to more automation.
The container conveyors on our fillers come standard with an 8 foot table length. They can be lengthened and turns can be added for a more custom fit into your operation. Fillers can be made with left to right feed or right to left feed. Safety clutches are added to both infeed / discharge stars, and the infeed timing screw. There is also a main slip clutch for total safety of the entire machine. Fillers can run a variety of sizes and shapes of containers and are easy to change from one size to another.
We have fillers running in United States, Mexico, Canada, and the Philippines. Many companies that have purchased our fillers several years ago, have since come back and purchased again. We would be happy to put you in contact with these companies to hear what they have to say about an American made filler.
A partial list of customers who use our fillers:
J.R Ouimet (Canada), Pacific Coast Producers (USA), McCall Farms (USA), Tip Top Canning (USA), Crider Poultry (USA), Seawatch International (USA), Marquez Brothers (Mexico), Del Monte (Philippines), Northwest Packing (USA), San Benito Foods (USA).
Standard Models:
3025 Ingredient filler, 30" bowl, 25 pocket, speeds up to 250 CPM, used for filling small amounts with an in-line design.
4010 Rotary filler, 40" bowl, 10 pocket, speeds up to 120 CPM, large container filler, primarily #10 can or similar size plastic/glass container.
4020 Rotary filler, 40" bowl, 20 pocket, speeds up to 220 CPM, shelve size container filler.
6020 Rotary filler, 60" bowl, 20 pocket, speeds up to 180 CPM, high speed large container filler, primarily #10 can or similar size plastic / glass container.
6030 Rotary filler, 60" bowl, 30 pocket, speeds up to 300 CPM, high speed shelve size container filler.
6036 Rotary filler, 60" bowl, 36 pocket, speeds up to 350 CPM, high speed shelved size container filler, used for increasing line speed on the smaller sizes.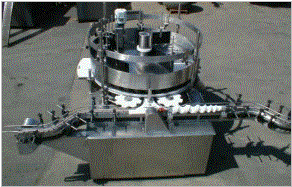 Optional equipment available:
Rotary sweep brush, used for moving delicate products.
Air or electric fill adjustment, used for on-the-fly adjustments of fill volume.
Hand pack upper bowls, used for high value or extremely delicate packs.
Custom conveyor lengths, used to simplify your line layout.
Hopper feed for granular products.
Condiment filler stations.
Hydraulic drives.